Exclusive Summon is a type of summon that can be accessed from the Summonhenge. Exclusive summon requires 50 Summoning Stones and 10,000 Mana Stones. It can summon monsters of grade 3 to 5-Star from a pool of 16 select monsters. 
Summon outcomes
Edit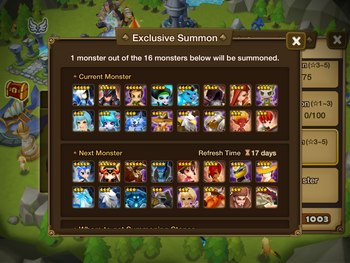 Exclusive Summoning is capable of summoning a 3- to 5-star monster from a subset of 16 monsters. The subset of monsters is changed every 7 days. The time remaining until the next refresh, as well as the current and next available monsters, can be seen in the Summonhenge by clicking the question mark icon. 
Although the monsters change, the subset will always contain 16 monsters. In addition, the number of monsters of a certain grade stays the same. In each refresh, there will be:
3 x 5-Star Monsters
5 × 4-Star Monsters
8 × 3-Star Monsters
As with Mystical Summons and Mystical Scrolls, players are guaranteed at least a 3-Star monster. It is also important to note that you can acquire awakened versions of 3-Star or 4-Star monsters on the list. 
The chance to receive any particular exclusive summon monster is NOT 1 out of 16. The chance to get a 4-star or 5-star monster is still very small. 
Summoning rates
Edit
| Grade | Percentage |
| --- | --- |
| | 91.5% |
| | 8.0% |
| | 0.5% |
| Awakened | Percentage |
| --- | --- |
| Yes | 2.0% |
| No | 98.0% |
Acquiring Summoning Stones
Edit

Exclusive summon list
Edit
From 2018-04-02 to 2018-04-09
From 2018-04-09 to 2018-04-16
From 2018-04-16 to 2018-04-23
From 2018-04-23 to 2018-04-30