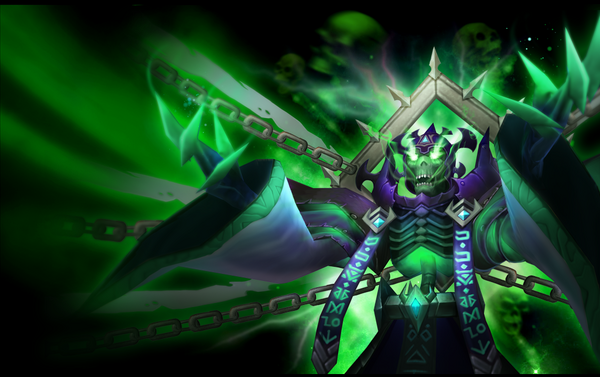 "This Dungeon is always open. From here you can collect the Rage Rune Set. A superior grade of Rune sets that can be collected in Scenario mode can also be collected."
Necropolis is one of the dungeons in the Cairos Dungeon, and the home of the Ancient Lich Kings. Defeating the Lich King will award players with a random Rune. The possible types of runes are listed below.
Drop info
Edit
Runes
Monsters
Scrolls/Stones
Other

Rune Piece
Symbol of Harmony
Symbol of Chaos
Symbol of Transcendance
Drop rate estimates
Edit
The following is based on data gathered by players.[1] You can contribute by using the SWProxy and SWARFARM tools!
Updated November 28, 2016
Stage
Rune Grade
B1
0%
0%
0%
0%
B2
0%
0%
0%
B3
0%
0%
B4
0%
0%
B5
0%
B6
B7
0%
6.1%
67.4%
25.2%
1.3%
B8
0%
0%
44.1%
48.6%
7.2%
B9
0%
0%
29.4%
57.2%
13.4%
B10
0%
0%
0%
83.9%
16.1%
Updated November 28, 2016
Stage
Rune Rarity
Rare
Hero
Legend
B1
B2
B3
B4
B5
B6
B7
59.1%
35.3%
5.5%
B8
72.9%
20.8%
6.3%
B9
67.4%
28.3%
4.2%
B10
70%
24.9%
5.2%
1★ rune drops are excluded.
Updated November 28, 2016
Stage
Rune Set
Rage
Will
Nemesis
Vampire
Destroy
B1
B2
B3
B4
B5
B6
B7
12.2%
15.6%
23.8%
23.8%
24.5%
B8
17.1%
18.9%
15.3%
26.1%
22.5%
B9
13.9%
21.4%
20.9%
21.9%
21.9%
B10
16.7%
20.8%
20.8%
20.6%
21%
Updated November 28, 2016
Stage
Item Drop Rate Estimates
Runes
Unknown
Scrolls
Mystical
Scrolls
Rainbowmon

Rainbowmon

Summoning
Stones
Shapeshifting
Stones
Rune Piece
Symbol of Chaos
Symbol of Transcendance
Symbol of Harmony
B1
B2
B3
B4
B5
B6
B7
69.7%
8.5%
~0%
3.8%
0%
0.9%
~0%
4.7%
6.6%
5.2%
0.5%
B8
67.7%
5.7%
1.2%
4.5%
0.3%
1.2%
0.2%
5.9%
6.1%
4.4%
1.9%
B9
66.5%
4.6%
1.4%
3.9%
1.1%
1.4%
~0%
6%
8.5%
5%
1.4%
B10
71.7%
1%
0.9%
3.7%
1.3%
1.5%
0.3%
5.5%
7.4%
4.5%
1.9%
Boss abilities
Edit
Name
Skill
Description
Ancient Lich King


Exploit Soul
Attacks all enemies, recovering 50% of the damage dealt as HP. The damage of Exploit Soul increases permanently every time the skill is used.


Imprison Soul
Imprisons the soul of the enemy that has dealt the most damage and controls the enemy. (Reusable in 4 turns)

The Time of the Dead (Passive)
The Attack Speed of all enemies and allies is suppressed and cannot exceed a certain cap. Also, all skill effects that influence the Attack Bar will not be activated. [Automatic Effect]

Soul Barrier (Passive)
Each turn, a barrier that nullifies a certain number of attacks is generated. When attacked without the barrier, the MAX HP decreases by 30% of the incoming damage. [Automatic Effect]

Fallen Immortal (Passive)
Revives with 50% HP at the moment of death. Will not be able to receive beneficial effects during battle, but instead is immune to silence or cool time increasing skill effects. [Automatic Effect] (Reusable in 9 turns)
Imprison Soul:

Imprisoned allies gain 100% Attack Bar when stolen and move immediately.
When an ally monster is imprisoned, the monster's skills are refreshed and are available to use against the player.
Imprisoned ally will be returned at 50% HP after defeating it.
Imprison skill bypasses immunity and invincible state.

The Time of the Dead:

Speed limit is 130.
Speed buff raises speed over the limit.[2]
Applying the slow debuff on the boss also works.
Speed leader skills will not go over the limit.

Soul Barrier:

Soul Barrier is not a buff, it is a passive, so it cannot be removed by buff removal.
Debuffs on the boss can only be applied when Soul Barrier is down.
Using monsters with multi-hit attacks is a good tactic for clearing the soul barrier, e.g. Colleen.
Soul Barrier is not an invincibility effect, and cannot be bypassed by skills like Cassie's 3rd skill "Devil's bullet" or Samurais' secret skill "Sword of the Supreme Sky Wolf".
Violent & Revenge runes are useful for depleting the Soul Barrier.

Turn order is important in defeating this boss. Players are recommended to tune the Speed of their monsters to suit their Necropolis team. Generally, monsters with multi-hit skills are set the fastest while Speed debuffers and attackers are set slower.
Continuous Damage and Bombs deal their damage, but do not decrease the boss's maximum Hit Points according to the Soul Barrier passive "...MAX HP decreases by 30% of the incoming damage," whether the shield is up or down.
Useful links
Edit
References
Edit
In other language
Edit
| Language | Title | Notes |
| --- | --- | --- |
| English | Necropolis | |
| Korean | 죽음의 던전 | |
| Japanese | 死のダンジョン | Shi no Danjon |
| Traditional Chinese | 死亡地下城 | |
| Simplified Chinese | 死亡地下城 | |
| French | Nécropolis | |
| German | Necropolis | |
| Russian | Некрополис | |
| Portuguese | Necrópolis | |
| Spanish | Necrópolis | |
| Indonesian | Necropolis | |
| Malay | Necropolis | |
| Vietnamese | Necropolis | |
| Thai | เนโครโพลิส | |