Transmogrification Building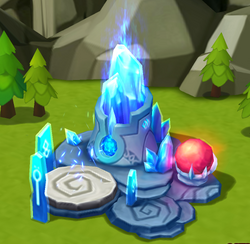 "A research facility that is looking for ways to find the hidden form of Monsters."
| | |
| --- | --- |
| Type | Main Building |
| Level Unlocked |  ? |
| Cost | 3000 |
The Transmogrification Building is a building that allows players to change the look of certain monsters. Transmogrified monsters also have special animations. Unawakened transmogrified monsters have the same appearance as their awakened counterparts.
The cost to transmogrify a monster is 300,000 Mana Stones and 100 Shapeshifting Stones.
List of Monsters
Edit
Transmogrification is currently only available to a certain number of monsters. The following are the monsters that have available transmogrifications:
Transmogrification Gallery
Edit
See Transmogrifications.